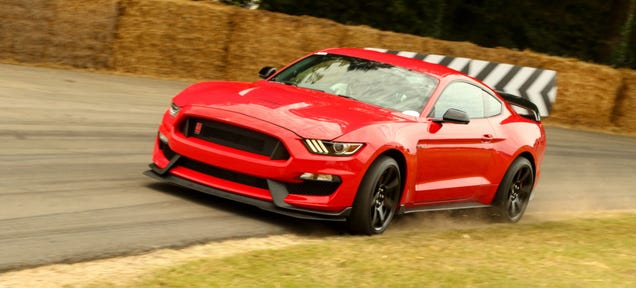 The 2016 Ford Mustang GT350R is the first proper production car to come standard with carbon fiber wheels, and the front pair uses the same ceramic plasma arc spray-on heat protection what NASA put on the original Space Shuttle's main fuel pump turbine blades. That should do it!
Carbon fiber wheels are something else. They work brilliantly on the world's most powerful electric bike (which I tried out and found amazing), and of course Christian von Koenigsegg came up with a way to make them weigh just 13 pounds each.

K-Segg's wheels are hollow and hold up pretty well at crazy speeds, but a set of Aircores will set you back by more than what an average family sedan costs. To be exact, 60,000 Euros without taxes but with the Michelins included.
While BMW is toying with the idea of affordable carbon fiber wheels, Ford acted faster by teaming up with the experts at Carbon Revolution to create something that can be mass produced at an affordable price, but also take the abuse on track.
To turn them into OEM products, the wheels had deal sufficiently with curb strikes, UV and chemical exposure and extreme heat. Ford claims despite what people think, hitting a curb with these babies won't be an issue:
One of the most severe tests for wheels in the Ford development process involves striking a curb at speed – a test that, without proper design, can cause serious wheel and tire damage. Because of the light weight, advanced construction methods and resins in the wheels, along with the highly-developed MagneRide dampers, the suspension was able to react so fast that the driver wasn't sure the test had been carried out correctly and ran it twice to be sure. The suspension response was fast enough to greatly diminished the severity of the impact – that's the power of minimizing unsprung weight.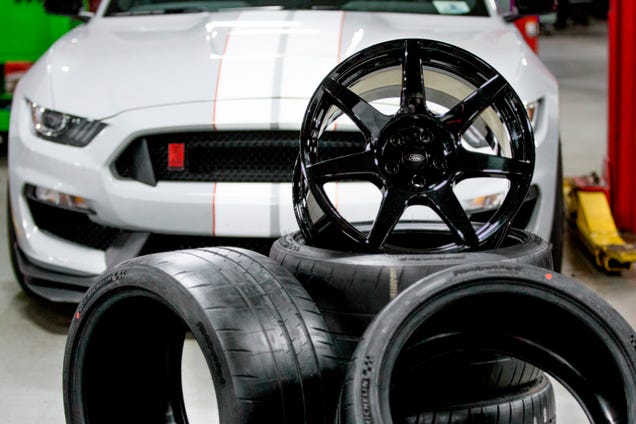 The Shelby GT350R's brakes also create rotor temperatures in excess of 1,650 degrees Fahrenheit (900 degrees Celsius), but Carbon Revolution's thermal barrier coating system takes care of that as well using a multistage, multimaterial coating formulation. They use a plasma arc gun to liquefy a ceramic material, and then the wheels are coated at critical points around the inner wheel "barrel" and on the back of the spokes.
The result is a thin, "nearly diamond-hard coating" that allows continuous track use "by even the most aggressive drivers."
That's not the end of it though, because they also had to come up with new precesses to create a smooth finish despite the additional UV and chemical protection. High-gloss black is what you get.
The complete build process goes like this:
Manufacturing carbon fiber wheels begins with the creation of the preformed internal carbon structure, composed of precisely manufactured carbon strands arrayed into woven fabrics. The elements are then placed into a mold using state of the art manufacturing techniques.

An RFID chip with a unique tracking number is embedded in this structure, and each wheel is individually entered into a quality assurance system. Once this structure is assembled, it's infused with resin and cured at high temperatures.

This process results in a one-piece wheel that ensures maximum strength – eliminating the need to bond or glue the wheel's spokes and barrel components together.

As the wheel cures, 61 individual checks and more than 246,000 data points are logged before it's released from the machine. To guarantee quality parts, the cured wheels are analyzed using a 3D computerized tomography (CT) imaging process in which more than 18,000 X-ray images are taken. If the wheel passes inspection, it undergoes machining for the valve stem and mounting hardware holes before it gets painted, coated, assembled, dimensionally checked and shipped to Flat Rock Assembly Plant for installation on a new Shelby GT350R Mustang.
The resulting wheels weigh 18 pounds instead of 33 like an alloy. That's a pretty significant reduction in unsprung weight and rotational inertia.
Ford says they lost 60 pounds while making the wheels stiffer as well, so they believe "this is a game changer for the industry." Well, it sure looks like it!